The surnames listed below have been submitted by members of the WFHA and are of current interest to them in their research. Queries received regarding these surnames will be forwarded to the individual member.
Current members of the WFHA who wish to add surnames or edit details in this list can use the form in our members area.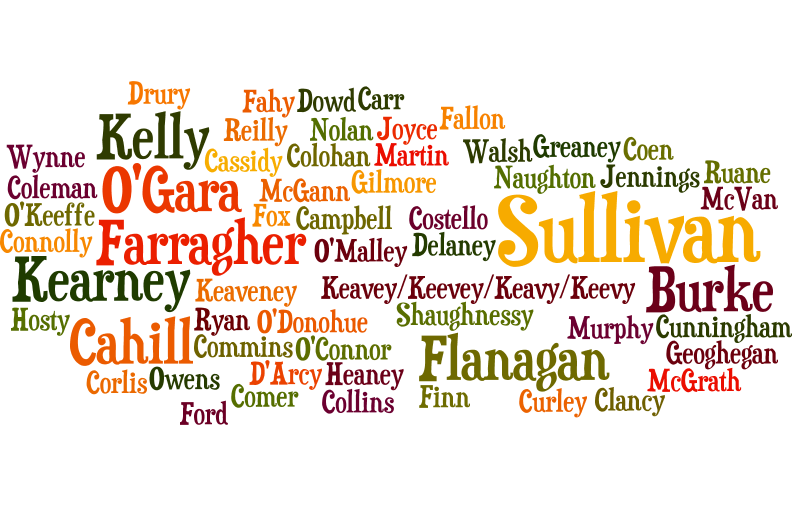 Surnames last updated in October 2020.
| Family Name | Townland | Parish | From | To | Member No. |
| --- | --- | --- | --- | --- | --- |
| Burke | Ballinacourty | Ballinacourty | – | – | 4 |
| Burke | – | Killererin | 1800 | 2002 | 71 |
| Burke | | Galway/Portland, ME | 1840 | 1860 | KO |
| Cahill | – | Craughwell/Claregalway | 1750 | 2014 | 7 |
| Cahill | – | Annaghdown | 1700 | 1900 | TGM |
| Campbell | – | Kells, Co Meath | 1830 | 1870 | 60 |
| Carr | Carnmore | Claregalway | – | – | 4 |
| Cassidy | – | Kells, Co Meath | 1830 | 1870 | 60 |
| Clancy | – | Galway City | 1840 | 1870 | 60 |
| Coen | Anbally | Cummer | – | – | 4 |
| Collins | Cregduff | Annaghdown | 1800 | 1900 | TGM |
| Coleman | Killeroran | Ballygar | 1850 | 1950 | 168 |
| Colohan | – | – | – | – | 39 |
| Comer | Anbally | Cummer | – | – | 4 |
| Commins | Kiniska | Claregalway | 1850 | 1900 | 71 |
| Connolly | Gortnagine | Dunmore | 1790 | 1951 | 63 |
| Corlis | – | Killererin | 1790 | 1870 | 71 |
| Costello | Carrowmore | Ballinacourty | 1750 | 2014 | 203 |
| Crowe | Corrandoo | Skehana | – | – | 287 |
| Cunningham | Slievefin | Annaghdown | 1750 | 2014 | 203 |
| Cunningham | | Galway/Portland, ME | 1840 | 1860 | KO |
| Curley | – | – | – | – | 39 |
| D'Arcy | – | Mahermore/Oughterard | 1850 | 1900 | 36 |
| Delaney | Carranthomas | Dunmore | 1820 | 1969 | 63 |
| Dowd | Cluidrevagh | Annaghdown | 1800 | 2010 | 203 |
| Drury | – | Roscommon | 1850 | 1920 | 12 |
| Fahy | Lydican | Claregalway | – | – | 4 |
| Fallon | Turloughmore | Lackagh | 1750 | 2014 | 7 |
| Farragher | Muckrush | Annaghdown | 1820 | 2014 | 203 |
| Farragher | Kilcoona | Caherlistrane | 1750 | 1920 | 203 |
| Finn | – | Lackagh/Claregalway | 1750 | 2014 | 7 |
| Flanagan | Ballybride | Roscommon | 1855 | 1933 | 148 |
| Flanagan | Keeloges East | Ballinakill | 1853 | 1855 | 148 |
| Ford | – | – | – | – | 39 |
| Fox | Caherlea | Claregalway | 1800 | 2002 | 71 |
| Geoghegan | – | Galway City | 1800 | 1900 | 97 |
| Gilmore | – | Killererin | 1800 | 1900 | 71 |
| Grealy | | Galway/Portland, ME | 1840 | 1860 | KO |
| Greaney | Kilgill/Bunatober | Annaghdown | 1800 | 2014 | 203 |
| Greaney/Greany/Graney | Tuam | Tuam | 1843 | 1891 | 281 |
| Heaney | – | Mayo South | 1750 | 2014 | 7 |
| Hoade | Cahernaheena | Donaghpatrick | 1800 | 2000 | 287 |
| Hosty | – | Castlegar | 1850 | 1900 | 71 |
| Jennings | – | Castlegar | 1850 | 1900 | 71 |
| Joyce | – | Lackagh/Claregalway | 1750 | 2014 | 7 |
| Kearney | – | Lackagh | 1750 | 2014 | 7 |
| Kearney | Carrowmore | Ballinacourty | 1830 | 2014 | 203 |
| Keaveney | – | Roscommon | 1850 | 1900 | 12 |
| Keavey/Keevey/Keavy/Keevy | Cregg | Annaghdown | 1800 | 1900 | TGM |
| Kelly | Cahermore | Kinvara | 1850 | 1950 | 21 |
| Kelly | Newgrove | Newbridge | 1870 | 1950 | 168 |
| King | Tuam | Tuam | 1834 | 1904 | 281 |
| Kyne | – | Lackagh | – | – | 287 |
| Lohan/Loughan | Ballygar/Lisquell East | Killeroran | 1800 | 1889 | 283 |
| Martin | Cartron | Ballygar | 1830 | 1950 | 168 |
| McGann | – | – | – | – | 39 |
| McGrath | – | Lackagh | 1800 | 2014 | 71 |
| McHugo | – | Portumna | 1825 | 1850 | 260 |
| McVan | – | Sligo | 1850 | 1900 | 12 |
| Murphy | Carheens | Belclare | 1860 | 2014 | 203 |
| Naughton | Lisheenavalla | Lackagh | 1800 | 2014 | 71 |
| Nolan | Newgrove | Ballygar | 1830 | 1950 | 168 |
| O'Connor | – | Milltown/Ballindine | 1750 | 2014 | 7 |
| O'Donohue | Kiltartan | Gort | 1850 | 1950 | 21 |
| O'Gara | – | Sligo/Roscommon | 1850 | 1920 | 12 |
| O'Gara | – | Mayo/Donegal | 1850 | 1920 | 12 |
| O'Keeffe | – | Kerry North/ USA | 1890 | 1920 | 81 |
| O'Malley | Killamoran | Gort | 1850 | 1950 | 21 |
| Owens | Prospery | Ballinakill | 1844 | 1856 | 148 |
| Reilly | Carrabeg | Headford | 1800 | 1900 | TGM |
| Reilly | | Galway/Portland, ME | 1840 | 1860 | KO |
| Ruane | Rinnaharney | Annaghdown | 1750 | 1955 | 203 |
| Ryan | Kiltrogue | Claregalway | – | – | 4 |
| Shaughnessy | Tawin | Ballinacourty | – | – | 4 |
| Silke | | Galway/Portland, ME | 1840 | 1860 | KO |
| Stanton | | Claremorris/Portland, ME | 1880s | 1920s | 4 |
| Sullivan | – | Moycullen/Oughterard | 1850 | 1900 | 36 |
| Sullivan | – | Ballinahinch | 1850 | 1900 | 36 |
| Sullivan | – | Carna | – | – | 91 |
| Tighe | – | Dunmore | 1776 | 1880 | 268 |
| Walsh | Ballybane | Galway | 1850 | 1900 | 71 |
| Walsh | | Claremorris/Portland, ME | 1880s | 1920s | KO |
| Wynne | Cloonacool | Tubbercurry | 1850 | 1900 | 12 |